Indonesia
More is needed
The global financial crisis has placed an additional burden on Indonesia, which was already facing problems such as a large foreign debt, corruption and macroeconomic policies that have failed to take concrete action towards poverty elimination. The severest effects have been felt by workers, since companies lay off their employees as a first option to save their assets. Civil society insists that the Government must take strategic steps to integrate poverty elimination into the national budget.
Published on Thu, 2011-09-22 13:04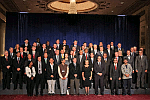 Launch of the Open Government
Partnership in New York
(Photo: Inesc)
Sources: Transparency International, Financial Task Force, HumanRights.gov, Inesc
A group of government and civil society organizations from all over the planet, among them the Instituto de Estudos Socioeconômicos (Inesc, focal point of Social Watch in Brazil), launched this Wednesday in New York the Open Government Partnership (OGP), a multilateral initiative that aims to promote transparency, fight corruption, strengthen accountability and empower citizens.
Source:

. Published on Thu, 2005-08-04 13:53
»