Deficits in transparency and regulatory oversight of GM insects
Published on Thu, 2012-02-09 08:34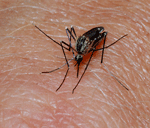 A mosquito biting the photographer.
(Photo: dr_relling/Flickr/CC)
A team of scientists from the Max Planck Institute for Evolutionary Biology in Germany found critical failures in the regulatory processes of the first three countries (Malaysia, US and the Cayman Islands) permitting releases of genetically modified (GM) insects in terms of transparency and scientific quality, reported the Third World Network Biosafety Information Service.
The paper, under the title "Scientific Standards and the Regulation of Genetically Modified Insects", suggests deficits in the scientific quality of regulatory documents and a general absence of accurate experimental descriptions available to the public before releases start.
The authors (R. Guy Reeves, Jai A. Denton, Fiammetta Santucci, Jarosław Bryk and Floyd A. Reed) found the world's first environmental impact statement on GM insects, produced by US authorities in 2008, to be scientifically deficient.
The report found that most consideration of environmental risk is too generic to be scientifically meaningful, and that it relies on unpublished data to establish central scientific points.
Of the approximately 170 scientific publications cited, the endorsement of the majority of novel transgenic approaches is based on just two laboratory studies in only one of the four species covered by the document, adds the paper.
However, the environmental impact statement appears to be used as the basis for regulatory approvals around the world.
The scientists also found that it was not possible to determine from documents publically available prior to the start of releases if obvious hazards of the particular GM mosquitoes released in Malaysia, the Cayman Islands and Brazil received expert examination.
With regard to the GM mosquitoes, which have been released so far in the Cayman Islands, Malaysia and Brazil, the first and most obvious question of people living in the release sites is whether humans can be bitten by those insects.
In public information available in the Cayman Islands and Malaysian trials, this obvious question is either conspicuously ignored or it is implied that the there is no biting risk, 'as only male mosquitoes are released and they cannot bite'.
However, as clearly detailed by the Max Planck scientists, it is probable that transgenic daughters of the released males will bite humans. This is because the released males are more accurately described as partially sterile males, rather than the commonly used term sterile males.
The probable presence of transgenic females in the environment requires the consideration of a more complex series of potential hazards than would be necessary if the presence of females in the environment was highly improbable. The former however does not appear to have been done so far.
More information
Scientific Standards and the Regulation of Genetically Modified Insects: http://bit.ly/zLQ7Xw
Source
Biosafety Information Centre: http://bit.ly/wojqjY