Sustainable development: UN-NGOs conference calls for real commitments in Rio
Published on Thu, 2011-09-08 08:58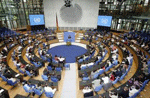 (Photo: South-South News)
Source: Blog of the Conference, UN News Centre, South-South News
The annual joint meeting of the United Nations (UN) and non-governmental organizations (NGOs) convened this week in Bonn, Germany, concluded with the presentation of a lengthy declaration that calls heads of state or government to represent their countries in next year's UN Conference on Sustainable Development (Rio+20) in Brazil, and for the adoption of an extensive and politically-binding set of international goals and national commitments.
Some 2,200 delegates registered at the 64th Annual UN DPI/NGO Conference with the theme of "Sustainable Societies: Responsive Citizens" received the 15-page declaration, with the input from more than 200 contributors who submitted over 1,000 textual amendments.
"We call for replacement of the current inefficient, unsustainable and inequitable economic model with economic policies that advance rather than detract from sustainable development goals and that build rather than deplete the stocks of natural, human, built and social capital on which human well-being ultimately depends," says the statement. "We propose that where the current economy aids inequity, destruction and greed, it should be replaced by an economy that cares for the people and the planet."
It also urges the Rio+20 Conference to establish "the proposed Financial Transaction Tax to help build social protection systems in the most vulnerable countries, […] and contribute to sustainable climate adaptation, strengthen civil society worldwide and support more sustainable and equitable economies."
"We are concerned that the current economic model, which promotes unsustainable consumption and production patterns, facilitates a grossly inequitable trading system, fails to eradicate poverty, assists exploitation of natural resources towards the verge of extinction, and has induced multiple crises on Earth, needs to be replaced by sustainable economies in community, local, national, regional and international spheres," the declaration adds.
"We are concerned that the prevailing economic development model built on policies such as privatization, export-led development, structural adjustment, deregulation, substitution of technology for nature, and driven by the goal of GDP growth suffers from a series of market and institutional failures that render it inefficient, unsustainable, inequitable, and a poor vehicle for advancing sustainable development goals," reads the statement.
On the other hand, the document notes the importance of volunteerism in almost every area of human activity, and calls for the establishment of an Ombudsperson for Future Generations who would work to ensure that future generations have their fair share of the fruits of the environment.
Forty workshops and four roundtables brought in over 150 speakers, which included Achim Steiner, Executive Director of UNEP, and environmental activist Vandana Shiva, who criticized transnational corporations that have introduced genetically-modified organisms into crop growing.
One of the most heated arguments in Bonn was held between the audience and participants at a roundtable about the concept of "green economy", which was conceived as a model in the final statement.
According to moderator Nick Nuttall (UNEP), despite the current financial instability, the transition from a fossil fuel based economy to a green economy is inevitable. There will always be economic winners and losers, but without a change all humanity will lose, and companies like Adidas and Nike are already taking steps to become more environmentally friendly, said Nuttall.
Meena Raman, an environmental lawyer from Third World Network (TWN, focal point of Social Watch based in Malaysia), said that corporative compromising can barely be regarded as success.
"I have been to jail for causes like protesting against corporations," she said. "We have to question what we are consuming, because we do not have the luxury to produce luxury products as long as third world country citizens do not have food to eat."
More information
UN DPI/NGO Conference final declaration: http://bit.ly/p8hui6