United Kingdom
SDGs and Economic and Social Rights under the Brexit Uncertainty
Published on Sun, 2017-08-20 23:08
The present and future of economic and social rights in the UK will depend considerably on the legal and policy consequences of the UK's withdrawal from the European Union.
In recent years, the UK has introduced significant changes to its welfare state with the Welfare Reform Act 2012 and the Welfare Reform and Work Act 2016. The reforms were justified on two grounds: deficit reduction and ending welfare dependency by facilitating access to work.
Published on Thu, 2011-09-22 13:04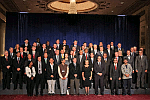 Launch of the Open Government
Partnership in New York
(Photo: Inesc)
Sources: Transparency International, Financial Task Force, HumanRights.gov, Inesc
A group of government and civil society organizations from all over the planet, among them the Instituto de Estudos Socioeconômicos (Inesc, focal point of Social Watch in Brazil), launched this Wednesday in New York the Open Government Partnership (OGP), a multilateral initiative that aims to promote transparency, fight corruption, strengthen accountability and empower citizens.
Source: Inter Press Service (IPS). Published on Wed, 2005-03-16 10:11
LONDON, Mar 15 (IPS) - A majority of British MPs have signed up for a resolution to make poverty history -- but not voted to take action on it. Their support comes through a parliamentary resolution that does not arise from within the parliament chamber. It comes by way of signing up to what is known as an Early Day Motion (EDM). Copies of the motion are placed in the House of Commons for MPs to sign up to, in the knowledge that these are not likely to be debated within Parliament. No EDM this year has drawn as much support as EDM number 9 tabled by Labour MP Julia Drown.
Source: BBC. Published on Wed, 2004-12-01 16:38
One fourth of the British households are poor and the north-south divide is getting wider, claim British researchers.
»